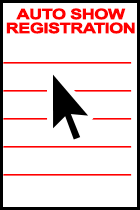 ONLINE REGISTRATION & INFORMATION
Register now online & use a credit card or PayPal to pay your fees or make your sponsorship donation.
Visit our Auto Show Info page for more on Vehicle Classes, Awards & Scoring. See our Sponsorship Information page for info regarding promotional considerations, etc.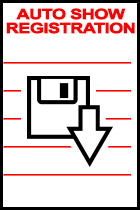 PRINTABLE REGISTRATION FORM & INFORMATION
Download the Registration Form & print it (2-sided,) then fill it out & mail it to us with your check or money order.
This Registration Form is a multi-page PDF document that includes Information Sheets listing the vehicle classes, awards & scoring, as well as promotional considerations for sponsors.