Thanks for making the 3rd Annual Auto Show a Success!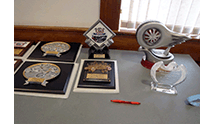 Grover Beach United wishes to thank all of you who came out to enjoy our 3rd Annual Grover Beach All Vehicle Auto Show on Saturday, Sept. 3rd, at Ramona Garden Park. We hope you all had a good time and that you enjoyed all the interesting vehicles, the live music, and the great food & drink. All our generous & helpful volunteers deserve a hand as well & we thank them whole-heartedly.
We also wish to thank all our musical guests - Three 4 All, JD Hardy, and the Crisptones. You were a great soundtrack to a great day and we very much appreciate your time & artistry.
And, of course, without our great sponsors, the whole thing wouldn't have been possible. These folks helped with supplies, services & advertising, and provided some wonderful raffle prizes, too. They include:
American Property Services
Mongo's Saloon & Restaurant
Pacific Western Bank
Kautz Chevron
Sierra Body Shop
Central Coast Casino
Budweiser
Lopez Lake Marina
Mullahey Ford
Supervisor Adam Hill
Quinn CAT
Bob & Victoria Bianchi
"Miss Etiquette" Anita Shower
"Dr. Electric" Robert Robert
RockAuto.com
Rugged Radios
Sand Outlaws
J. Johnson, Attorney at Law
KJB Sportwear
Noble Productions
ASIGNCO Custom Signs
Arroyo Grande Chevrolet
Halcyon Store
Li'l Bits Cafe
(There are others yet to be added to this list.) We've uploaded all our pictures & they're available on our "Picture Galleries" page, as well as on our Facebook page. Our (revised) final count was 34 cars, 25 trucks, 9 motorcycles & 1 big-rig, for a total of 69 motor vehicles, plus 5 pedal cars. That's 74 entries in all!
Thanks, again, to all those who gave of their time & energies to make our 3rd Annual All Vehicle Auto Show such a great success!